"Reconnect" with the Idaho Falls Symphony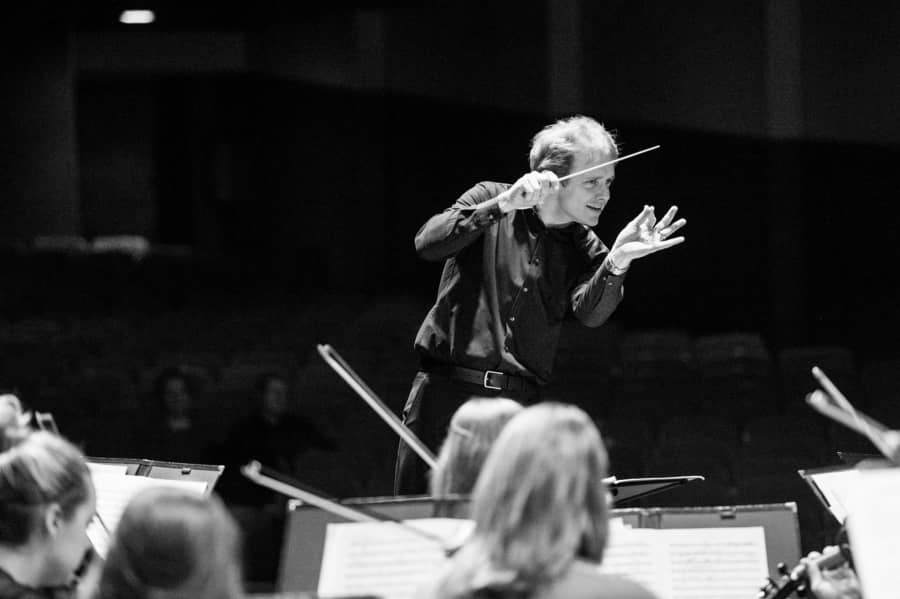 The Idaho Falls Symphony invites audiences to RECONNECT during the 2021-22 season. After a hiatus of more than eighteen months, the full Symphony plans a return to the concert stage, joined by live, in-person audiences. Music Director Thomas Heuser has curated six subscription concerts from October 2021 through April 2022 that will take your breath away. The main events will be held in the Idaho Falls Civic Center for the Performing Arts, with live broadcasts streamed online for audiences everywhere.
"There are few words to describe the elation of this moment," remarks Heuser. "We are simply thrilled with the announcement of our full return next season. We learned a lot during the pandemic, about the importance of our mission in the community and the importance of connecting with our audiences. This exciting return means we have an opportunity to strengthen those connections once again, and to finally offer live music!"
Starting July 12th, current season ticket holders can renew their in-person seats for Season 72. You can renew online and then call our office to confirm your seats, or you can pay over the phone at  208-529-1080 during regular office hours (Monday-Friday, 11am-4pm). On August 16th, new season tickets will go on sale for first-time subscribers, and then single tickets will become available on September 18th. Live-stream access is provided with every subscription, and virtual tickets are available for purchase at any time throughout the season.
Season 72 of the Idaho Falls Symphony opens with a free, outdoor community concert called Audience Favorites on Saturday, September 18th. The Symphony will serve up a host of memorable melodies by the great composers, plus a brand new "Fanfare for Democracy" by American composer Jim Stephenson. Audiences of all ages are welcome to bring a picnic to the grassy hillsides of the Snake River at the Freeman Park Band Shell at 5:30pm.
Then at long last, The Symphony Returns to the Civic Center for the Performing Arts. Our subscription season gets underway on Saturday, October 9th, with a program that features our 2020 Young Artist Competition Senior Division Winner, violinist Laurana Wheeler Roderer, performing the passionate music of Sergei Prokofiev. Then on November 6th, the orchestra proudly presents Paddington Bear's First Concert. Families with children of all ages can attend the shorter, 2:00pm Family Concert at a reduced price, while Haydn's delightful "Surprise Symphony" rounds out the evening subscription performance. Actor and director Erin Nazario, an Idaho Falls favorite, will be the narrator for Paddington Bear's misadventures. And just in time for the holidays, the Symphony celebrates with The Snowman Movie on December 11th. The popular film is back for one night only, alongside Baroque Delights that will highlight the talents of our Symphony musicians.
Heading into 2022, the annual EIRMC Red Dress Concert on February 12th will feature pianist Roberto Plano playing Gershwin's jazzy "Rhapsody In Blue" on a program exploring American music. On March 19th, we will finally perform a twice-rescheduled Intimate & Elegant reduction of Mahler's Fourth Symphony with soprano Diana Livingston Friedley. Then on April 30th, our Season Finale will be a celebration of Fanfare and Triumph with our largest orchestra of the season. The Finale features our 2020 Young Artist Competition Junior Division Winner, James Tyler McKay, on a bombastic program brimming with virtuosic thrills.
In addition to the subscription concerts, a variety of other events are planned for Season 72. There will be two Evenings of Chamber Music at the Downtown Events Center, each sold separately for in-person audiences. Plus, the Idaho Falls Symphony Youth Orchestra and Preparatory String Orchestra plan a return to in-person rehearsals and concerts, with free concerts planned for each semester. The Idaho Falls Symphony Youth Orchestra is under the baton of Interim Music Director Christine Hutchings, alongside IFS violinist and conductor Annalee Kelly, who returns for her third year as the director of the Preparatory String Orchestra. Auditions for new students will be held from September 9-11, 2021.
On behalf of the staff, musicians, students, families, and volunteers that make up the Idaho Falls Symphony community, we want to thank our audiences and sponsors for their enthusiastic support. Even during the pandemic, we were buoyed by your participation, feedback, and incredible generosity. We cannot wait to RECONNECT with you in Season 72.